Primary Three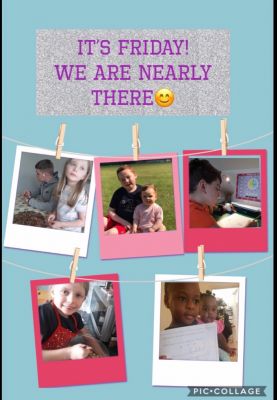 We will always remember March 2020!
Lockdown happened the week before the Primary 3 children were due to make their First Confession.
We were so proud of how prepared and ready they were with prayers, songs and drama and were disappointed for them that they would not be able to celebrate the Sacrament together. However, a new chapter in school life had begun!
Home learning became a new way of life for us all!
From the beginning our wonderful boys and girls and their parents got out their IPads, computers (and even phones) and began to communicate with us as they completed their daily lessons.
It was a challenge for us all to learn new ways of teaching and learning but we all worked together!
As teachers we planned and delivered the content of our lessons through Class Dojo.
We were delighted to receive photos of the children at their work and at play and shared these with our year group to encourage everyone to do the best they could under the circumstances.
By the time we reached the end of June 2020 we were so proud of all our P3 children and how they had coped with such a huge change to their lives.
Feedback from Parents:
"Overnight it seemed the classroom was transformed into a digital one. I understand the enormity of this task!"
"Structured work laid out in a clear and precise manner according to the day of the week. As a working parent not at home this was essential for me as my child did not have the direction from a parent during the daytime."
"We received help, support and reassurance through class Dojo."
"The teachers were excellent. I was always able to contact them whenever I needed to and got a very quick response."
St. Therese of Lisieux Primary School, 472 Antrim Road Belfast BT15 5GF T: 028 90770215