Primary Six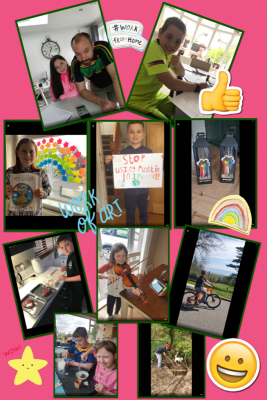 Lockdown Learning - March to June 2020
Due to the the Covid 19 pandemic the children in Primary 6 faced an unexpected and unusual way of working and learning. No longer sitting in a classroom surrounded by their classmates but having to complete their learning activities at home with their other family members.


The Primary 6 teachers found a way to communicate with their children and the parents through Class Dojo. This allowed the teachers and parents to keep in touch on a daily basis. The boys and girls had to complete their school work and learning through the use of Google Classroom. Google Classroom was the main forum to upload the activities for the children to complete each week in the different subject areas.

Websites such as, Learning by Questions, 10ticks and Studyladder were used to enhance the children's learning experiences. Explain Everything allowed the teachers to assist with the more challenging areas of numeracy and literacy.

We were very impressed by how quickly the children adapted to this new and unfamiliar way of learning.
The children shared their work, their play and their experiences with their teachers and classmates by sending photographs, videos and messages. This helped to keep everyone motivated and stay in touch.
Parent Feedback:
"The teachers were always there to answer any queries I had. Response time was very quick which was very much appreciated."
"The videos of the Transfer Questions where the teacher explained were very useful."
"Thank you to the P6 teachers for the help and support they provided to my son over lockdown."
"The P6 teachers were fantastic with the work they provided and were always available when I needed help."
"Thanks to the work sent, support and guidance from the P6 teachers , we think we have done OK so far! Google Classroom has been a brilliant platform and we found it easy to navigate or search for previous tutorials to use as learning activities, if she needed a reminded of something. Just brilliant!!"
St. Therese of Lisieux Primary School, 472 Antrim Road Belfast BT15 5GF T: 028 90770215