Primary Seven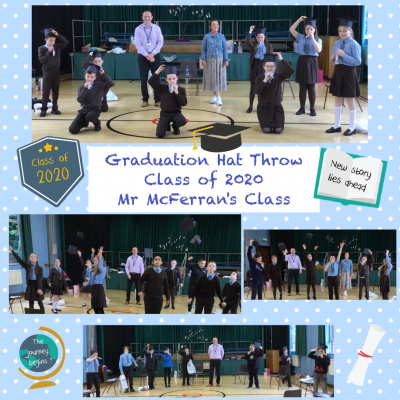 The boys and girls of Primary 7 had worked extremely hard in the first half of the year to prepare for and complete the Transfer Test and celebrate the Sacrament of Confirmation. After taking part in their annual residential trip to the Share Centre, lockdown came and brought a halt to their journey towards the end of their time at St Therese of Lisieux.
From March to June, the children demonstrated a maturity and adaptability towards a new style of learning that belied their years. They engaged in a variety of online learning platforms that included Google Classroom, Learning by Questions, Studyladder, and 10Ticks to name a few.
The children were able to explore a variety of issues associated with their transition to post-primary school and worked really hard to contribute to our first ever virtual end of year Mass and graduation celebration. It was also a pleasure to meet with the children at the end of June under social distancing guidelines to bid them farewell and wish them every blessing for the beginning of their new journey in post-primary education.
Parent Feedback
"The weekly focus was very useful for identifying work for the week."
"The use of Explain Everything videos was great."
"I think the personal messages from teachers helped keep things normal."
"The regular updates and encouragement were important."
"There were links to exercises on various different platforms."
"Structured learning and maintaining contact, with prompt messaging."
St. Therese of Lisieux Primary School, 472 Antrim Road Belfast BT15 5GF T: 028 90770215